Kurt Nimmo
Prisonplanet.com
July 25, 2012
New York's gun-grabbing mayor Michael Bloomberg told Piers Morgan the other night that police around the country should go out on strike until the American people stop practicing their right to own firearms.
Actually, this is one of Bloomberg's better ideas. Short of directing traffic and filling out paperwork at automobile accidents, the police serve little purpose. Police officialdom readily admits cops do not have an obligation to protect citizens. Citizens well armed and trained in firearm use are far better at protecting their families and property than the police.
Prior to the mid-1800s, Americans were expected to protect themselves and each other. The organized and bureaucratic gangs supported by the state we now call "police" would have been considered a standing army. "The notion of a police force in those days was abhorrent in England and America," writes
Peter Kasler
.
Not only are the cops unable and legally not required to protect citizens, they now are often the number one threat to them right behind criminals.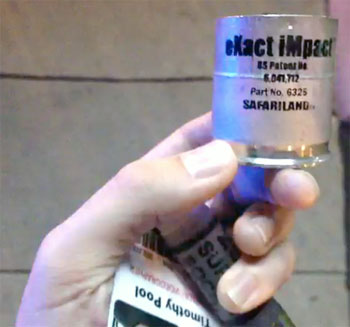 This was demonstrated last week in Anaheim, California, when the police attacked citizens protesting the murder of two people by cops. The police shot rubber bullets and unleashed dogs on the angry protesters. After the brutality was captured on cell phones, the police went into damage control mode and offered to buy the video. Instead, the video went viral on the internet.
Following the attack in Anaheim, activists posted images of the "non-lethal" munitions used by the cops. The police used eXact iMpact 40mm Sponge rounds developed by the U.S. Army Research laboratory.
"The eXact iMpactTM 40 mm Sponge Round will prove most successful for incapacitation when used within its optimal energy range of approximately 5 – 36 meters," a
document
issued by the manufacturer, Safariland, explains. It induces "sufficient pain stimulus" and is designed to "enhance chemical munitions, or targeting specific agitators and organizers of the crowd" exercising their First Amendment right to protest against police violence.
It's too bad the cops will not follow Bloomberg's advice. If they did, attack dogs would not be unleashed on children and citizens wouldn't be shot in the back with "sponge" bullets developed by the Pentagon. If the cops went away, people would get back to their roots and rediscover the responsibility of self-defense instead of relying on a parasitical state to not protect them from criminals both in and out of government.
More than a decade after he released his documentary "Bowling For Columbine," about another tragic Colorado massacre, filmmaker Michael Moore says he is "sick" of having to keep addressing the issue of gun control.
In an interview with CNN's Piers Morgan last night, Moore pleaded for more restrictive measures

on gun ownership in the wake of the horrific massacre in an Aurora, Colorado, movie theater last week
"If people would just rise up and say 'Damn it, this is not the America I'm going to live in. This is too great of a country to let this happen again. I am not going to let this happen again,'"
Moore said.
"And I am not going to come on another one of these damn TV shows either, after the next one of these shootings, Piers," he added. "I'm sick of this. I refuse it. I refuse to live in a country like this, as I said before, and, I'm not leaving. So therefore, what am I going to do? It's got to change."
"When he said, 'What if it were them?' ... Well, what if it were them last Thursday night? Would you stand at the microphone the next day and say, 'I feel your pain?' Is that really what you'd say?" Moore said.
Watch the clip below, courtesy of
CNN
: