Endoftheamericandream.com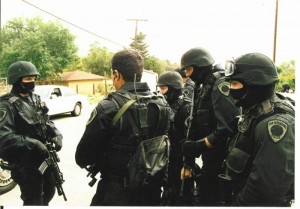 In recent years there have been huge numbers of Americans that have sought to go "off the grid" and live a more independent lifestyle. It has been estimated that there are now approximately
3 million
"preppers" in the United States, and many of them just want to be left alone so that they can take care of themselves and their families on their own land. But that is not the way America works anymore. In many areas of the country, government control freaks have essentially declared war on preppers and are attempting to force them back on to the grid. In some states, "nuisance abatement teams" are conducting armed raids on off the grid properties. Property owners are being cited for "code violations" and are being told that they are "bothering the neighbors". In some cases, trees and gardens are being forcibly removed. In other cases, entire structures are being relocated or torn down. And in the most extreme cases, property owners are actually being forced off of their properties completely by these control freaks. You see, the truth is that in America you don't really own your property. You are essentially renting it, and you can only do with it what the government allows you to do. And the government does not like people disconnecting from the grid and living an independent lifestyle. So these battles over property rights are probably going to get even more intense in the years ahead.
These days, many Americans are choosing to grow "survival gardens" as a way to help feed their families and become more independent of the system.
But in some areas of the country these survival gardens are being forcibly ripped out by government control freaks. Just check out what happened to one unemployed woman
in Tulsa, Oklahoma
....
A Tulsa woman is suing the city's code enforcement officers after she said they cut down her garden with no cause.
Denise Morrison said she has more than 100 plant varieties in her front and back yards and all of them are edible and have a purpose.
She knows which ones will treat arthritis, which will make your food spicy, which ones keep mosquitoes away and treat bug bites, but she said none of that matter to city inspectors.
Last August, Morrison's front and back yards were filled with flowers in bloom, lemon, stevia, garlic chives, grapes, strawberries, apple mint, spearmint, peppermint, an apple tree, walnut tree, pecan trees and much more.
The government agents left her with nothing. They ripped her garden to shreds. She was relying on that garden for her food and her medicine. Because she is unemployed, she doesn't have any money to go to the store and buy all those things.
Now she is
absolutely destitute
....
"I came back three days later, sat in my driveway, cried and left," Morrison said.
Oh, but at least the government agents can report that "everything is now up to code".
What is happening to this country?
In the state of California, armed "
nuisance abatement teams
" are intimidating property owners into getting connected back into the grid, and in some instances they are forcing homeowners off their land entirely.
When I first watched the videos posted below I got quite angry.
This first video is about government control freaks driving people off their land in the California desert....